Try some fonts & SFX we ripped from PinOut!


Explore some Alternative Genders we found!


Listen to eclectic EDM mixes at our SoundCloud!.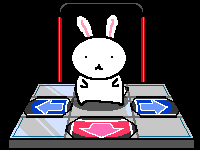 See a gallery of our fursona Bunnilope! SFW /
all (NSFW).


See our octopus-marshmallow-monster sona Floofmallow! NSFW.


Memes & art as we make em at Twitter.


Support our adventures & independant art at Ko-fi!.




WEBROLL // OUR FRIENDS // 1337 P33PZ
negativemiracle.neocities.org
rawrdcore.bandcamp.com
marzetu.neocities.org
k33ysmash.carrd.co
danneroni.carrd.co
ashe.org.uk
guro.uwu.ai
kaj.gay
















About The Artists